(Peoria, IL – January 17, 2023) – Cullinan Properties ('Cullinan'), a national leader of real estate and development services, has announced the acquisition of Tradewinds Shopping Center in Pensacola, Florida.  Pensacola is a growing coastal city with high barriers of entry and a MSA population that exceeds 500,000.  The transaction was closed in December 2022 for $25.05 million.  
This acquisition continues Cullinan's expansion in the Southeast and complements the company's development of the Tampa VA Mental Health Center in Temple Terrace, FL (Tampa MSA).  Tradewinds is a 178,000+ SF, 95% occupied shopping center anchored by a market-leading TJ Maxx/HomeGoods combination store, Jo-Ann Fabrics and Shoe Station.  The generational property boasts stable tenancy, with 75% of open and operating tenants having been at the center for over ten years.  Located in a prime Pensacola location with excellent accessibility from surrounding interstates, its retail trade area extends well into Alabama and Georgia. 
"Our team has worked diligently throughout this acquisition process and prevailing market conditions.  We are excited to have Tradewinds join our other assets and drive long-term value creation for our investors," said Christopher West, Chief Operating Officer for Cullinan Properties. "It fits into our strategic plan of adding opportunistic retail centers to our mixed-use, healthcare, and development portfolio," added West. 
"We are pleased to add this successful shopping center to our portfolio that has additional value creation opportunities.  The major, national tenants have been at the shopping center for over 25 years which is a testament to the property's ability to attract visitors within the local market and surrounding areas.  The acquisition of Tradewinds will help accelerate our company's growth plans and allow us more connectivity to owners and developers within the Southeast," said Diane Cullinan Oberhelman, Chairman and Founding Partner of Cullinan Properties.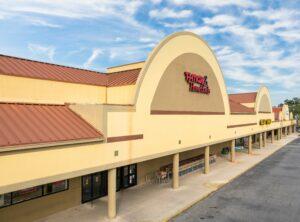 About Tradewinds Shopping Center 
Owned and managed by Cullinan Properties, Tradewinds Shopping Center is comprised of 178,000+ SF of retail and restaurant space. Co-anchors include a TJ Maxx/HomeGoods combination store, Jo-Ann Fabrics and Shoe Station.  
About Cullinan Properties 
Cullinan Properties is a leading developer of real estate specializing in commercial and mixed-use developments and acquisitions.  With offices in Peoria, IL, Chicago, IL, St. Louis, MO and Tampa, FL, Cullinan Properties is a multi-disciplined real estate firm that develops, manages and owns mixed-use, retail, multifamily, office, governmental and healthcare properties throughout the United States.  Cullinan is certified as a Women's Business Enterprise through the Women's Business Enterprise National Council (WBENC). For additional information about Cullinan Properties, visit CullinanProperties.com and @CullinanProperties on LinkedIn. 
###